Coats For Kids 2019: A Coat for Every Child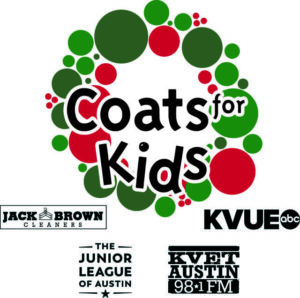 SAVE THE DATE!!! SAVE THE DATE!!! SAVE THE DATE!!!
WHAT: Coats for Kids Distribution Day
WHEN: Saturday, December 7, 2019 From 8:00 a.m. – 12:00 p.m.
WHERE: Del Valle Elementary School 5400 Ross Road, Del Valle, TX 78617
WHY: To distribute new and gently-worn warm winter coats to eligible youth of Central Texas.
HOW:
Pre-register with your Parent Community Liaison.
To receive a coat, recipients must be:
1. 18 years of age or under.
A parent/guardian must be present with children on distribution day or will need to show proof of the child's birth date.
2. Parents/guardians must provide proof of eligibility through governmental assistance programs (ex: free or reduced free lunch, Medicaid, SNAP, TANF, etc.) or proof of living at or below 200% of the national poverty level.
Please help us spread the word so that we can make sure every child in Central Texas that needs a coat this year will receive one.
FOR MORE INFORMATION: Website: ​www.jlaustin.org/coats
or Contact your Campus Parent Community
Un Abrigo para Cada Niño
¡ANOTA LA FECHA! ¡ ANOTA LA FECHA! ¡ANOTA LA FECHA!
¿QUÉ? El Diá de la Distribución de ​Coats for Kids Sábado, 7 de Diciembre, 2019
¿CUÁNDO? Sábado, 7 de Diciembre, 2019 De 8:00 a.m. a 12:00 p.m.
¿DÓNDE? Del Valle Elementary 5400 Ross Road, Del Valle, Texas 78617
¿PARA QUÉ?
Para distribuir abrigos calientitos de invierno, nuevos o poco usados a los jóvenes del centro de Texas que reúnen los requisitos.
Para recibir un abrigo, el destinatario tiene que:
1. Tener 18 años de edad o menos.
El padre/tutor debe estar presente con el niño el dia de la distribución o debe presentar un comprobante de la fecha de nacimiento del niño.
2. Los padres deben presentar un comprobante de elegibilidad por medio de programas gubernamentales (ej: almuerzo gratuito/precio reducido, Medicaid, SNAP, TANF, etc.) o comprobante que vive debajo del 200% del nivel de pobreza nacional.
Por favor, ayúdenos a correr la voz para garantizar que cada niño en el Centro de Texas que necesita un abrigo este año, lo reciba.
PARA MÁS INFORMACIÓN:
Sitio Website: ​www.jlaustin.org/coats
o contacte al Representante de Comunidad y Padres de tu escuela