KICS – Kids In Cool Shoes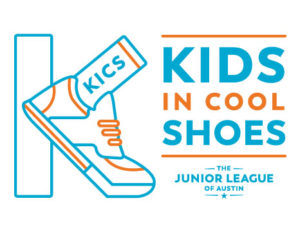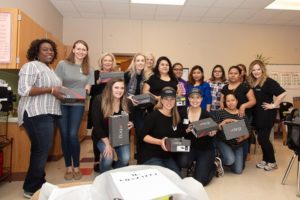 The Need for KICS
After a lot of research and thought, the Junior League of Austin (JLA) found there is a need for new shoes among students who attend elementary schools and preschools in high-need areas of our community. We found many kids wear shoes that are too small, too big or completely worn down. According to the nonprofit Shoes That Fit, being given a pair of new shoes improves school attendance by 44%, participation in physical activity by 72%, and classroom behavior by 63%.The JLA also found there is a desire in our community for companies to get involved and offer hands-on help.
KICS Mission
To provide children with a new pair of well-fitting sneakers, allowing them to be healthy, comfortable, and participate in physical activity.
About KICS
Three years ago, the JLA introduced the Kids in Shoes (KICS) program. With help from corporate sponsorships and volunteer hours, the JLA provides new athletic shoes for every child at high-need Central Texas-area schools.
In spring of 2018, a small group of volunteers from the JLA visited Guerrero-Thompson Elementary school in the Rundberg area (97.6% economically disadvantaged), measured 655 children for shoes and returned 4 weeks later to distribute new shoes to every student in the school.
In our second year, with the help of corporate sponsors and volunteers, we delivered over 1,000 pairs of shoes to all students at Guerrero-Thompson Elementary, plus all students at 3 community preschools in high-need areas of the community.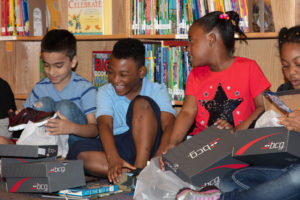 How You Can Get Involved
$20 buys a pair of shoes for one child in need!
We know how difficult it can be to find volunteer activities for your team
For volunteer opportunities please contact the Kids In Cool Shoes Chair at kics@jlaustin.org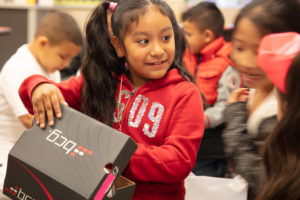 What Students, Teachers, and Volunteers are saying about KICS
"The interaction with the kids was very fun and worthwhile. They all seemed excited to get their shoes and I'm sure they were needed by many of the kids, so it felt good to be a part of that experience. School staff and Junior League volunteers were very appreciative, too." -Corporate Sponsor and volunteer
"I cannot describe the feeling that I felt that day. I was so touched by the amount shoes we were able to pass out. Seeing those kids faces as they received their shoes was priceless." -Corporate Sponsor and volunteer
"This is my first pair of new shoes, EVER!" – 2nd grade student, Guerrero-Thompson Elementary
"I only had these shoes, and they used to be my big sister's, but now they're too small. Thank you." – 4th grade student, Guerrero-Thompson Elementary
"Prior to this pilot program, many of our students were in shoes that didn't fit or were falling apart. The week before you came here, one little boy came in because his shoes were so old that the tongue of the shoe had broken off!" – Administrator, Guerrero-Thompson Elementary
"At Coats for Kids this year, it had snowed that week, but there were kids standing in line in flip flops because they didn't have any warmer shoes. Now I know how important the KICS program is." – The Junior League of Austin member
KICS FAQs
Can I donate a pair of gently used shoes?
Pediatricians tell us that wearing pre-owned shoes isn't advised, because even very gentle use leaves a wear pattern on the insoles of the shoes that doesn't match the new recipient's feet. This can be particularly detrimental to growing feet and growing skeletal systems. For this reason, the shoes we distribute through KICS are purchased new through a bulk discount.
Then can I donate $20 to buy a new pair of shoes for a child?
Absolutely! Please click here to donate. Only $20 buys a new pair of shoes for a child who needs shoes that fit.