Coats for Kids 2022 Distributes One Millionth Coat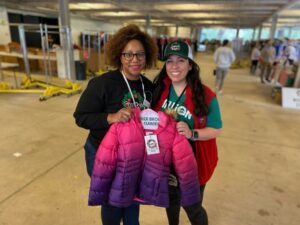 The collaboration with The Junior League of Austin (JLA), its partners, and the community has cultivated a fantastic outreach opportunity. If you have volunteered with Coats for Kids, I am sure you recall the first time witnessing the excitement of a child receiving a new coat and the fulfillment and joy that stem from the experience.
Over the years, Coats for Kids has evolved. A lot has changed since my first experience at the one-day shopping event at Palmer Events Center. The week before the event, volunteers sorted and sized coats, and the day of the event, volunteers helped recipients pick out their coats. This model allowed JLA to give an average of 6,000 coats directly to recipients and the other roughly 24,000 coats to our community partners, who then handed out coats to the communities they served.
Coats for Kids 2022 Model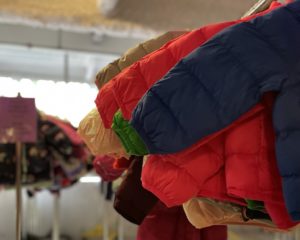 After 2020, the Coats for Kids model needed an overhaul to adapt to the community's changing needs and the desire for a more flexible model. The Coats for Kids Committee strategized new methods for growing the program and made the Community Impact Center (CIC) the new hub for Coats for Kids.
Now, volunteers sort, size, shop, and tag coats in our lower-level garage at CIC. This is also an opportunity to share CIC with the community and showcase the beautifully constructed building. JLA's vision for CIC to offer space for the League to expand its philanthropy work and provide community access is realized through the current Coats for Kids model.
In addition, the committee works with schools in AISD and DVISD to fill out a coat order form with the recipient's name, size, and color preferences. Since making these changes, Coats for Kids has made a larger impact on our Central Texas community. We can now distribute 15,000 coats directly to children while the other 15,000 go to our community partners. The committee has also increased outreach by working with various charter schools in Austin.
Coats for Kids 2022 Community Impact
This year, we hit a new milestone: giving away our millionth coat!
Coats for Kids would not be possible without its great partners, including Jack Brown Cleaners, iHeartRadio, and KVUE, that share our vision and our incredible community in Austin, Texas.
Thank you again to our partners, volunteers, community members and all who contributed to help keep children in Central Texas warm this winter season.
 

 

View this post on Instagram

 
Coats for Kids 2022 By-the-Numbers
32,138 coats donated
1,500 volunteers for a total of 4,500 hours of time donated by community volunteers
149 organizations participated in the Coat Drive Competition for a total of 8,443 coats collected
60 schools, 69 businesses and 20 community organizations hosted a Coat Drive collection bin
11,500 Dental kits donated by St. David's to be included in coat distribution
1,000 families and 1,700 coats requested coats through the Recipient Outreach Committee
50 Community organizations received 15,000 coats for community non-profits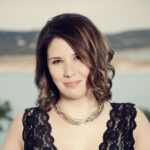 About the Writer: Wendy Kiddy is a fifth-year member of The Junior League of Austin. She has called Austin home for more than 2 decades. Her days are filled working within a Portfolio Management Office (PMO), managing data, and reporting to develop business strategies for project management. In her free time, she can be found in the gym, enjoying live music, or spending time with her husband and rescue dog.