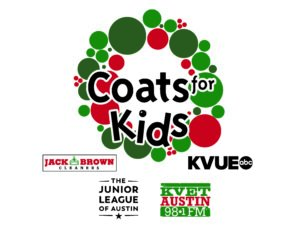 As in years past, families will be required to show qualifying documentation onsite at Palmer Events Center on Distribution Day.  Distribution Day is Saturday, December 8, 2018, from 8:00 a.m. to 3:00 p.m.  Palmer Events Center is located at 900 Barton Springs Road, Austin, Texas 78704, in downtown Austin.
Families will be qualified to receive a coat(s) based on the information below:
Children must be 18 years of age or younger and accompanied by a parent or guardian.
Parent or guardians without children present on Distribution Day must provide BOTH proof of child's age AND proof of income.
Acceptable proof of child's age includ

es:

Government issued ID cards
Birth Certificate (Original only, no copies please)
CHIP card
School ID with picture
Medical/Immunization record
All

 parents or guardians must show proof of 

enrollment in a governmental assistance program or 

family income at TWICE or below the federal poverty guidelines 

(2018 federal poverty guidelines

 are

$16,460 – family of 2, $25,100 – family of 4, $42,380 – family of 8, $4,320 for each additional member

).

Acceptable proof of eligibility incl

udes:

Enrollment in free/reduced lunch program
WIC card
CHIP card
Medicaid card
Lonestar debit card
AP (Medical Assistance Program) card
SSI (Social Security Income) card
Current Pay Stub
Please note: Each child present on Distribution Day may receive ONE coat.  If child is not present on Distribution Day, each parent/guardian may receive a MAXIMUM of SIX coats.
If you have questions, please do not hesitate to contact us at cfkcoats@jlaustin.org or call (512) 888-9031.