Spotlight on Cyndi Cummings: JLA Sustainer, advocate for Austin seniors, and my mom
A Junior League of Austin sustainer spotlight.
For this Sustainer spotlight, I am interviewing my mom, Cyndi Cummings. Like many members, I became involved with The Junior League of Austin (JLA) before I was even eligible to join, through the involvement of my mother. She inspired me to join the League and she still inspires me today as a Sustainer, with her continued commitment to serving the Austin community.
Tell us how you came to The Junior League and in what positions you have served.

I became a member of the Junior League of Portland, OR in the late 1980s. I served in many roles there, including Director of Fundraising and Treasurer. After moving to Austin and joining The Junior League here, I served as Auction Chair for A Christmas Affair, among other placements.
How are you continuing to serve the community as a Sustainer?

Currently, I am President of AustinUP, a board member of Drive a Senior Central Texas, and President and Founder of LT Senior Services. AustinUP is a nonprofit organization that works to enhance livability for older adults in our community, expand Austin's role in the longevity marketplace, connect age-smart employers with older job seekers, and change perceptions about aging. Drive a Senior Central Texas is a JLA community partner that connects volunteer drivers with seniors who need transportation in order to live more independent lives. LT Senior Services connects seniors and their caregivers with businesses and organizations that can serve their specific needs, and provides community education.
How do you feel serving in The Junior League prepared you for these roles or informed the way you are serving now?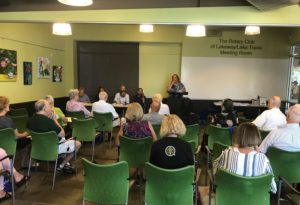 My early Portland League experience emphasized that The Junior League is a training organization for women. The intention is that women will use the skills they learn in their careers and future volunteering. I felt like that was accomplished with me. My writing, organizational, and collaboration skills were improved and helped me to succeed. Many organizations benefited from the experiences I had in my League years, and will continue to benefit from them for many years to come.
You're very involved in helping seniors. How did you identify that need? 

I noticed through my work as a real estate agent that elders were an underserved segment of the population. The complexity of a late-in-life move makes the amount of time involved in these types of transactions much higher than in a traditional real estate transaction. It also requires relationships with other professionals that can assist in a complex move. I consider myself to be a connector of people and it was a natural progression to shift my focus to later-in-life moves.
What challenges for seniors did you see magnified through the COVID-19 pandemic?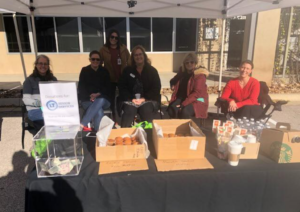 When the pandemic first began, my greatest fear for seniors was them not having their basic needs met. LT Senior Services quickly started a food drive and worked with local charities to learn who the most impacted seniors were in the Lake Travis community. It went on to have several food drives during the pandemic. I also worried about social isolation, so LT Senior Services began a phone tree, calling seniors to connect them with resources and determine what other needs they had.
How did the organizations you are involved with pivot or expand operations to address this crisis?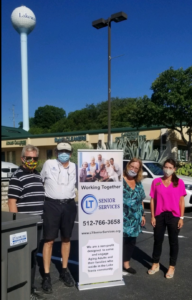 All of the nonprofits I volunteer with had to pivot. Drive a Senior Central Texas was not able to offer rides at first, but soon devised a plan to drive those seniors with the greatest needs to healthcare appointments. It also started a phone tree to keep connected with seniors and offer assistance. AustinUP moved its programming online and highlighted employment for those over age 55. LT Senior Services moved its webinars to Zoom and has continued to offer them virtually.
As a realtor, how do you see the current housing situation and rapid growth in the area affecting aging people?

The best housing market is a balanced market, where there is an equal number of homes being sold to buyers looking. We are far from that market at this time. The data show us that it could be two years until the market balances out. I have had several clients sell in order to move closer to family who have reaped the benefits of the current market. Seniors who want to downsize can sell at a large profit, which may justify buying a smaller home at a higher price.
You are now the primary caretaker for your 84 year-old mother. How does being a caretaker change your perspective on senior issues and what resources do you know of for those in a caretaking role?

It has been eye-opening and a learning experience being the caregiver for my mother. When I started to focus on this demographic for my work, I did not have my mother in mind. As her needs have increased, I have been able to use the connections in the senior industry to answer those tough questions and get assistance. Until you are in the situation, you really don't know what you need or who to turn to, so it is hard to prepare for being a caregiver. Being a caregiver has made me more concerned for my own healthy lifestyle as well.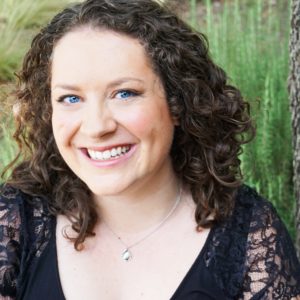 About the Writer: Natalie Bradley has lived in Austin for 21 years and is a fifth-year member of The Junior League of Austin. She's enjoyed serving with B.I.G. Love Cancer Care, Mother's Milk Bank of Austin, and on the Done-In-A-Day and Grant committees. She is a local performer and voice teacher and lives in Lakeway with her equally musical husband and son.