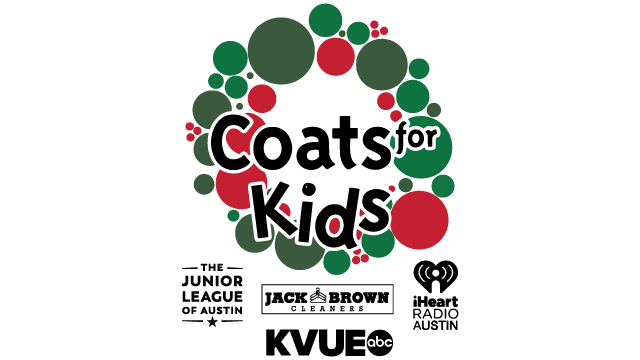 Frequently Asked Coat Drive Questions
Thank you for joining the Coats for Kids Coat Drive Competition! Below are the answers to some questions we often receive. If you have any additional questions, please do not hesitate to reach out to our Coat Drive Coordinators at cfkcoatdrive@jlaustin.org.
IMPORTANT DATES TO KNOW
1. When does the coat drive begin and end? 
This year's Coats for Kids Coat Drive Competition kicks off on Monday, Nov. 7 and runs through Friday, Dec. 2. Winners of the competition will be announced live on iHeartRadio Austin on Wednesday, Dec. 7. Coats can be dropped off at Jack Brown Cleaners starting Monday, Nov. 14. All coats collected before this date need to be held until dropoffs at Jack Brown Cleaners begin. All coats must be turned into Jack Brown Cleaners by close of business Friday, Dec. 2.
SETUP/POSTER INFORMATION
1. Will Coats for Kids provide a bin or box to accept coats? 
Unfortunately, we do not provide bins or boxes. Many of our past competitors have used everything from moving boxes to laundry bins. Our schools often cover old boxes in holiday wrapping paper to help attract attention. 
2. What sizes/types/colors of coats do you collect?
Kids come in many wonderful shapes and sizes, so we collect all colors and sizes of new or gently used coats, including adult-sized coats for older recipients. This year, we are in most need of coats sizes 7/8 and 10/12. 
3. Can we create our own poster/flyer? 
Absolutely! However, we ask that the Coats for Kids logo is prominent on any materials that are created to promote your coat drive. You can save the logo image in this document to use or let us know if you need a larger .jpg version.
WHAT TO DO WITH COLLECTED COATS
1. Will The Junior League of Austin come to our business or school to pick up the collected coats?
All coats need to be dropped off at any Jack Brown Cleaners. At drop off, Jack Brown Cleaners will provide a receipt for the number of coats delivered. Each week, organizations participating in the coat drive are asked to email a copy of the receipt to cfkcoatdrive@jlaustin.org. You must send up this confirmation to get credit for your donations! Jack Brown does not track this information for us.
2. Why Jack Brown Cleaners? 
Jack Brown Cleaners has collected and cleaned thousands of coats during the Coats for Kids coat drive. This year, we'll celebrate our 36th year and Jack Brown Cleaners's 1 millionth coat cleaned for Coats for Kids! You can find the nearest Jack Brown Cleaners by visiting their website jackbrowncleaners.com/locations. 
3. How do we send in the receipts so that they count toward our coat drive totals?
We accept any legible method of transmission for the receipts. Groups can take a picture, scan, or fax it to our email address: cfkcoatdrive@jlaustin.org. Please be sure your group name can be seen. 
4. What if someone gives us a check instead of a coat?
As long as the check is made out to Coats for Kids, it can be dropped off at any Jack Brown Cleaners or The Junior League of Austin's Community Impact Center (5330 Bluffstone Lane, Austin, Texas 78759). Please reference your organization in the memo line so that your coat drive receives credit for the donation.
5. What is the last day we can donate coats or send in receipts?
All coats must be dropped off at any Jack Brown Cleaners by Friday, Dec. 2. All receipts must be sent to the Coat Drive Coordinators by Monday, Dec. 5.
6. When can we start dropping off coats at Jack Brown Cleaners? 
Coats can be dropped off starting on Nov. 14. While the coat drive officially kicks off earlier, Jack Brown Cleaners won't accept coats until Nov. 14. 
COMPETITION
1. Are donations tax deductible?
Yes! All monetary donations made using our website (jlaustin.org) will be emailed a tax receipt. Any checks received as donations for Coats for Kids will be mailed a tax letter. Any coats donated to a Jack Brown Cleaners during the competition can receive a receipt that includes the number of coats donated. 
2. Can we challenge other groups/schools/businesses in the competition?
We love this idea! In the past, we have had rival high schools both create coat drives to see which one could collect the most coats. It turned into a very spirited event and helped bring in a record number of coats for kids! Be sure both groups/schools/businesses register to hold a drive, and let us know how we can help. 
3. What do we win if we collect the most coats? 
The Junior League of Austin provides a special recognition to those organizations that collect the most coats during the drive. Each group or organization is placed in a category unique to who they are (i.e., high schools compete against other high schools, small businesses compete against other small businesses, etc.). We will notify all winners via email and present all awards live on iHeartRadio Austin in early December.
4. What are the different categories that groups compete in? 
Good question! Categories have changed as interest in this event has grown. This year the categories are:
| | |
| --- | --- |
| Schools | Business/Organization |
| High School | Large Business (more than 1,000 employees) |
| Middle School | Medium Business (250-1,000 employee) |
| Elementary School | Small Business (less than 250 employees) |
| Preschool | Non-Profit Organization |
| Private School | Community Group |
5. If participants want to help in other ways, what can we tell them?
We love volunteers! Coats for Kids Distribution is Dec. 1–11, 2022. We will have shifts available for adults over the age of 18 throughout this week and designated youth sorting nights for individuals under the age of 18. Please check our website (jlaustin.org/coats), and click "Volunteer" to learn more. Also, consider donating to Coats for Kids by clicking "Donate"on our website, and include your group name to count toward your coat total.  
6. I still have questions about the Coats for Kids Coat Drive. Who do I contact?
You can reach our Coat Drive Coordinators via email at cfkcoatdrive@jlaustin.org.