JLA Member Owned Business Spotlight
The membership of the Junior League of Austin is very large – one of the largest in the nation – so it's no wonder you'll find a lot of amazing Junior League run businesses among us. With such a large group, it's hard to know which businesses out there are lead by our fellow JLA ladies and so we'll highlight different businesses here throughout the year. 
First up, we have busy bébés, opened and owned by Julie Hildebrand JLA member since 2014. Some of her placements have included Settlement Home Run Club, DIAD, and Farmer's Market Info Booth.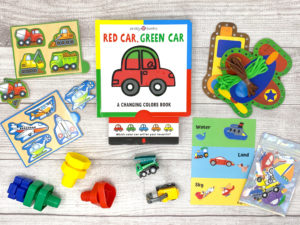 When asked how the Junior League has helped her in building her business she responded, "[JLA] has helped me build such a support system of women who have been constant cheerleaders in this new endeavor. The women in the League have also been great inspiration for me in wanting to make a greater difference in our community."
As an educator for over 10 years, Hildebrand learned a lot about how children grow, learn, and interact with others during that time. It was there that she noticed the increase of diagnosis of children with learning disabilities such as ADHD. She noticed a reliance on screens to entertain young children and felt it had to be part of the problem. "I felt I had to do something to help children growing up in a time when devices are everywhere you look," she said.
After the stress of finding and organizing activities to keep her toddler "busy" and entertained, she realized she could use that same research and educational background to create similar, easily accessible activities for other children and parents. And so it was with this idea that Hildebrand, along with Amy, close friend and former colleague who had the same concerns in the classroom, created busy bébés. Knowing many mothers were in the same situation, they wanted to find a more affordable way to bring them a little peace of mind without all of the effort.
Busy bébés is perfect for families with toddlers and/or preschoolers and includes engaging and educational "busy" bags. Busy Bags are perfect for quiet time at home or while on-the-go: while traveling, on an airplane, in restaurants, or even at the doctor's office. Each busy bag set is filled with hands-on and engaging activities based on a beloved childhood theme. Busy Bags are sold individually or as a monthly subscription–both great gift ideas. 
All busy bags include 5-7 activities with a carefully curated range of activities designed to stimulate your child's learning across multiple areas of discipline which is based on early childhood development. They focus on fine motor skills, cognitive learning, tactile/sensory, STEM, and interactive literacy. For example, our "Things that Go" Busy Bag includes the following: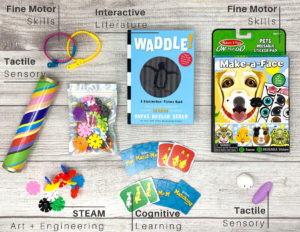 Fine Motor Skills: Transportation Lacing Cards

Academic: Shapes and Colors Nuts & Bolts

Cognitive Learning: Transportation Board Matching

Tactile/Sensory: Transportation Puzzles

STEAM: "Create a Road" (Road Washi Tape + Pull-Back Cars)

Interactive Literacy:

Red Car, Green Car: A Changing Colors Book
And of course, all Busy Bags are rigorously tested and approved by Julie and Amy's own children. And irony isn't lost on Hildebrand. One fun fact about her is that she is a PBS Digital Innovator All-Star. While she sees a growing concern with the amount of screen time that many children experience daily, she is also a huge advocate for teaching 21st Century Skills in the primary years."It's all about balance," she exclaimed!
When asked if she had any advice for fellow JLA entrepreneurs, she responded with the same advice which was given to her recently, "If you believe in your product [or service] and you're happy doing it, keep doing it! Success will come with time."
If you have a business, or know of a fellow JLA member whose business you'd like to have featured on the blog, let us know.