KICS 2020 Kicks It to COVID-19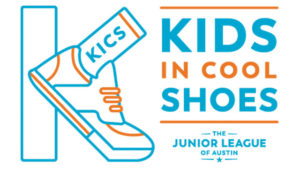 Four years ago, The Junior League of Austin (JLA) kicked off the Kids in Cool Shoes (KICS) program. KICS provides new athletic sneakers for children at high-need Central Texas-area schools with help from corporate sponsorships and volunteer hours. Starting with just a small group of JLA volunteers visiting Guerrero-Thompson Elementary school in the Rundberg neighborhood (where 97.6% of its residents are economically disadvantaged), 655 children were measured for shoes. Volunteers returned four weeks later to distribute brand new shoes to every single student in the school in the program's first year! Now, KICS has grown to deliver over 1,000 pairs of shoes to Guerrero-Thompson Elementary and neighboring schools every year since.
The impact of KICS goes beyond kids being able to "rock a new pair of kicks." The approximate cost of a new pair of shoes for one child is $20. This $20 not only makes a material difference in a child's life, it also has a more lasting impact. With a new pair of shoes for students:
School attendance improves by 44%
Participation in physical activity increases by 72%
Classroom behavior improves by 63%*
In 2020, with the COVID-19 global pandemic in full force, the KICS Committee had to think on their feet and pivot operations. Ultimately, they kicked it to COVID and were still able to service over 1,000 students while keeping the schools, committee members, and volunteers safe. The pandemic also pushed the Committee to expand the horizons of KICS and provide new opportunities for supporting those in need, as well as more permanent improvements for the program.
When asked what she was most proud of regarding this year's KICS program, 2020 KICS Committee Chair Katie Pirtle noted, "that we remained steadfast in servicing our mission, despite all the changes this year. We had a mantra as a committee: 'what matters most is that the children get their new shoes.' The rest we had to let go of and just make it happen! The entire committee has been wonderful in their willingness to be flexible, go with the flow and just do what is needed to service the children, and I am very proud of what we were able to accomplish as a team."
At one school, KICS provided families in need with at least $150 worth of essential items for their specific needs to offset their cost of living. Additionally, teachers and parents partnered to send the students' shoe sizes, and KICS was able to hold outdoor distribution events. Since volunteers were not able to be as hands on due to social distancing, KICS also created an adopt-a-family program with one of JLA's supported preschools. This program allowed JLA members and their families, as well as corporate sponsors' employees, to remain involved with the program in a meaningful way while also supporting families who had been disproportionately disadvantaged by COVID. Brand new books, games, and critical household items were sponsored through JLA's Kids Giving Back program and employees of Nyle Maxwell Dealerships and delivered to each family.
Despite the added challenges, the KICS Committee saw an opportunity to make some permanent changes to the program that would allow for doing greater good on a larger scale. To finish out the year, KICS is working on a broader distribution pilot in partnership with Nyle Maxwell and Austin ISD. They look forward to sharing more on the future strategy of the KICS program as we test out this new model.
By The Numbers | KICS 2020-2021
Mainspring Schools:
60 students received a new pair of shoes in November 2020
42 high-need families received games and books (up to $50 donation) in partnership with our Kids Giving Back program
42 high-need families received $150–$300 worth of critical household items, i.e. cleaning essentials, diapers/formula and shelf stable food items
Cedar Bend and Forbes Child Development Centers:
42 students received a new pair of shoes in March at Cedar Bend
46 students received a new pair of shoes in March at Forbes
AISD Pilot project:
600 pairs of shoes will be provided to various high need students/families across the district in partnership with AISD support programs
"This year was tough because we had to scale back on volunteer involvement, but we are looking at opportunities for expansion and operational adjustments that will allow for more volunteer involvement in the future," Pirtle said. "We are running a pilot program this spring that might allow for additional volunteers in May, so watch for a future communication on that. And we always welcome new individual or corporate donors who are interested in supporting our mission, so please feel free to spread the word!"
*stats from nonprofit Shoes That Fit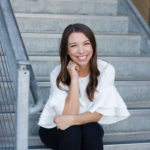 Krystin Gresham has lived in Austin for six years and is a third-year member of The Junior League of Austin. She's enjoyed serving children in Del Valle ISD through FIT – Food In Tummies, volunteering with our community partner ZACH Theatre, and building friendships during her time in the League. Krystin works in the tech industry and loves traveling with her husband, playing golf, learning to cook, and cheering on the Fightin' Texas Aggie football team!