JLA Member Spotlight: Lauren Jerden of Lauren Allyn Interiors
A Junior League of Austin Business Spotlight  
The Junior League of Austin (JLA) gave me the opportunity not only to serve the local Austin community, but to also form close friendships along the way. In my Provisional year, I was blessed to form a friendship with several ladies in my Provisional Small Group, and we still keep up regularly on our "JLAdies" group text today! One of these ladies is Lauren Jerden—owner and founder of Lauren Allyn Interiors. Over the past several years, I've seen Lauren's commitment to her business, her friends, and JLA firsthand. In addition to her creative spirit, wittiness, and loyalty, I admire Lauren's work ethic and accomplishments and wonder how she handles it all! I'm excited to spotlight her as a JLA member and business owner and give a peek into her success.

First, let's start with how Lauren Allyn Interiors was born: Lauren has worked in high end residential design since 2012. After a few years of working for a small firm here in Austin, she grew a desire to own her own small business. When she felt the timing was right (in her words: "Is it ever though?"), Lauren decided to form Lauren Allyn Interiors. Her primary commitment for Lauren Allyn Interiors is ensuring clients remain the highest priority and delivering to best meet their needs. They are a hands-on firm and Lauren works directly with all of her clients, in addition to now having a design assistant, office manager, and CAD specialist on the team.


As a designer, Lauren says she doesn't stick to a specific style. "If the client wants a certain look, we can and will design it," Jerden said. "I enjoy designing livable and functional spaces—but spaces that clients want to be in. Although the pretty pictures and spaces are often what clients are initially attracted to—aesthetics almost take a back seat to function. Of course we are going to create a beautiful space for you, but above that we want the spaces we design to function well for our clients and their families that live in the spaces day-to-day."

Here is a deeper look into Lauren's take on starting a business, what the League means to her, and of course some firsthand design advice!
What do you enjoy most about being a member of The Junior League of Austin?
Two of the things I love about JLA are the opportunity to serve our community in so many different capacities and the friendships I have made since becoming a JLA member! As a small business owner, I believe that both of these things are important. The community and friends you surround yourself with and give yourself to often give back to you in ways you never would have imagined. I enjoy the opportunity that JLA provides its members to be out in the community, both serving others and attending events that involve giving back to the community in some form. The friends I made along the way in JLA celebrate and help each other in the best of ways—accomplishments, "life changes," and successes. They have been such great blessings in my life the last few years!
What advice would you give other women who want to start their own business?
Realize that there is no "right" time to get started. Granted, there are probably better times than others, but there is never going to be the "perfect opportunity" or a time you aren't scared to take the plunge! Surround yourself with people who support you, people who "get it" to the best of their ability, and will help you through challenges and make you smile on hard days. It is not easy. It's incredibly hard work, but it is SO beyond worth it!
What advice do you have for balancing personal and professional life as a small business owner?
One of the biggest things for me was moving my office out of my house and into its own space. It is hard to have a real "start time" in my business. Working with builders and contractors, the phone starts ringing some days before 7A a.m. When I officed out of my house, I found that I also had no real end time—I would just keep working away well into the evening! But having an office where I go to start my day and have to leave to come home for dinner, for example, has led to a more successful separation of work and personal life.
What design trends are you most excited about for 2021?
The return of a more "taupe-y" neutral! I am LOVING the warm tones that are back…and better than ever! We are seeing a lot of trends towards warmer toned light neutrals, and I love the blank canvas those colors create for us as designers. These colors lend themselves to a more natural use of accents in other design elements—in metals, wood finishes, and even in accent colors—and help create such an inviting environment. I am excited by the possibility to create spaces this year that lend themselves toward that direction!
What can JLA members do to support your business?
Just talk about us! So much of our business is word of mouth and referrals, so the more our name is out there and the more opportunities we have to work with members of JLA, the better! We would love nothing more than to serve our JLA community through design, and creating a great experience for each and every family we meet with.

You can follow Lauren Allyn Interiors on Instagram and complete this contact form on their website to get in touch.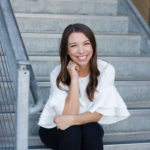 About the author: Krystin Gresham has lived in Austin for six years and is a third-year member of The Junior League of Austin. She's enjoyed serving children in Del Valle ISD through FIT – Food In Tummies, volunteering with our community partner ZACH Theatre, and building friendships during her time in the League. Krystin works in the tech industry and loves traveling with her husband, playing golf, learning to cook, and cheering on the Fightin' Texas Aggie football team!