Meet the Breakthrough Austin Project Chair, Angeline Close Scheinbaum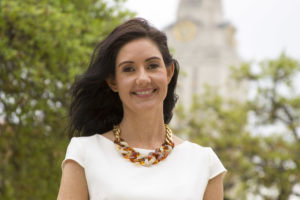 Full name: Angeline Close Scheinbaum
Occupation: Associate Professor, The University of Texas at Austin
Current placement: Breakthrough Austin Project Chair
When did you join JLA?
I joined Jr. League in 2006. From 2006-2011 I was with the Junior League of Las Vegas, where I served with our gala, helped the provisional chair start a signature fashion show event "Fashion Forward", and was provisional co-chair.
What other placements have you had?
Some more memorable placements were provisional co-chair and Coats for Kids. I loved Coats for Kids. It is my favorite day of JLA. I was a photographer a few years ago. I started with in-league placements, but the last two years I have had community placements as I like the community aspect and the direct interaction with the non-profits.
What do you like best about your placement? 
What inspires you the most?  Seeing young people realize their potential despite obstacles. Breakthrough helps people literally break through barriers. Consider these statistics:
Breakthrough students graduate from college at nearly 5 times the rate of peers who have the same obstacles (low-income, parents without college educations, adverse situations).
Only 1 in 10 Breakthrough students leave the program before high school graduation (Breakthrough starts in middle school and supports students all the way to college graduation!)
On average, 97% of Breakthrough students graduate from high school in 4 years! For the past three years, 100% of Breakthrough students graduated in 4 years.
On average, more than 80% of Breakthrough students enroll in college! Only 46% of peers who come from similar backgrounds enroll in college.
What are some of the challenges?
Most of the challenges are to the students; it is hard to be a college-aspiring student when your parents did not have the ability or opportunity to go to college. Most of us take it for granted that, if we got to go to college, there was likely someone such as a parent or older sibling to help us. Applying to college is not that simple! There are many essays to write for example. Those essays require a certain skill–such as critical or creative thinking as the evaluators at times are really looking at how the applicant thinks. Having someone around to run those big ideas by–or even questions on grammar really gives an advantage. Students with access to such resources have an edge; think about SAT preparation tutors and courses. Traditionally, those are expensive and not accessible to many. The goal here is to provide resources and inspiration and mentorship.
Do you have any interesting stories or anecdotes?
YES!  I had the honor of being Violet's mentor. She was determined in the face of adversity. When we met last August, she had ideas of her future in a few different areas and with about a dozen schools. It seemed though, with many of those applications and majors that something was off from potential. It wasn't until she had a turn where she realized that she loved her music (she was a viola player) and that is what drove a more focused college strategy. With a focus on music programs specific to her passion, her search became strategic. Her college essays really were so fantastic as they showed her passions. Her now strategic search was successful; she is now thriving as a college freshman at Texas Tech, where she is concentrating on music performance. She had to do an interview with Texas Tech's program prior to acceptance! She is just one of many Breakthrough Austin students who rose to a high standard.