Melt My Heart: Molten Chocolate Lava Cakes for Two
Congrats! You've made it through Dry January and Whole 30 after sticking to your New Years' resolutions. Now it's time to treat yourself for all of your hard work and commitment to starting the new year on a healthy note. Luckily, Valentine's Day is conveniently around the corner, which for me is always an opportunity to celebrate my love for both my sweetie and sweet treats!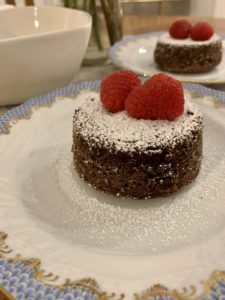 I'm not going to lie—cooking is not my forte. (I may or may not have blown up two microwaves, but who's counting?) However, spending more time at home during the pandemic inspired me to brush up on my baking skills. As a self-admitted choc-a-holic, I tend to gravitate more toward baking than cooking. Plus, I am always looking for an opportunity to crank up my KitchenAid mixer and let it handle the hard work!
Since Valentine's celebrations will look a little different this year, I decided I wanted to spice things up by making an impressive sweet treat on my own. Whether you're planning a low key, virtual, Valentine's or Galentine's celebration, I knew these Molten Chocolate Lava Cakes for two would be a perfect—and surprisingly simple—recipe for an elevated at-home celebration this year. I was initially intimidated by the gourmet reputation of molten lava cakes, but decided to be a guinea pig and share my take with you.
The verdict: These molten chocolate lava cakes are guaranteed to melt your heart! I can also assure you they are fool-proof after passing the test of a novice like me. I highly recommend pairing with your favorite red wine and Netflix show for an easy celebration this year!
If you're feeling even more inspired to turn it up in the kitchen this Valentine's Day, be sure to also check out the virtual classes by local-Austin business Make It Sweet. I highly recommend the Chocolate Truffles class from my personal experience!
Bon appetit, and don't forget to kiss the cook!
Molten Chocolate Lava Cakes for Two
Prep Time:

10 minutes

Cook Time:

10 minutes

Total Time:

20 minutes
INGREDIENTS
Cakes:
1 egg plus 1 egg yolk

2 tbsp all purpose flour

4 oz dark chocolate

1/8 tsp kosher salt

2 tbsp sugar

1/2 tsp instant coffee

2 tbsp butter, unsalted
Toppings:
DIRECTIONS
Preheat oven to 425°F

Generously butter the inside of two 6-8 ounce ramekins or custard cups. Place a small spoonful of sugar in each, and turn the cup to fully coat the inside with the sugar. Dump out any excess. Set aside.

In the microwave, melt the chocolate, stopping every 30 seconds to stir (should take a total of 60-90 seconds). Don't overheat, and take out when just melted. Set aside. (You can also do this over a double boiler.)

Cream together the butter and the sugar in a medium bowl. You can do this by hand or use a hand mixer.

Add the egg and egg yolk, beat until fully combined and starting to get foamy.

Add the flour, salt and instant coffee, beat until just combined.

Add about 1/3 of the melted chocolate to the mixture and stir until combined. Then add the rest of the chocolate and stir to fully mix.

Divide evenly between the two ramekins.  Bake for 10-11 minutes, until the tops are just set (they should look slightly under baked).

Allow to sit for 5 minutes, then use a butter knife to run around the edges of each cake. Turn upside down onto a plate and give the top a tap, the cake should fall out onto the plate.

Serve right away. Bonus: top with powdered sugar and your favorite berries!
About the author: Krystin Gresham has lived in Austin for six years and is a third- year member of The Junior League of Austin. She's enjoyed serving children in Del Valle ISD through FIT, volunteering with our community partner ZACH Theatre, and building friendships during her time in the League. Krystin works in the tech industry and loves traveling with her husband, playing golf, learning to cook, and cheering on the Fightin' Texas Aggie football team!