Party Hearty Box Takes the Stress Out of Hosting
A Junior League of Austin Business Spotlight
The Junior League of Austin (JLA) members own a variety of businesses in the Austin area. From specialty shops to toy subscription services, you may have supported a JLA member-owned business without even knowing it!
Party in a Box
Founded in 2019, Party Hearty Box gives everyone the chance to be the best hostess to their party guests. Its carefully crafted boxes and bundles are created with intention and strive to be easy, personalized, and chic. You just pick the theme, and throw your perfect party.
Party Hearty Box is co-owned by Elizabeth McCormick and Brit Schoff. Elizabeth, a JLA member, met Brit—where else?!—at a party. After bonding over their classic Enneagram 2 qualities (helping and hosting) and the hardship of making new friends as an adult, Party Hearty Box was born.
"Inviting people into your home is a little nerve-wracking. In a world where technology is always at your fingertips, our business is encouraging others to put down their cellphones and form meaningful relationships again, in real life!" says Elizabeth. Their hope is by taking the stress out of party planning, more people will have the confidence to host in their home with old and new friends.
Parties during a pandemic?
Party Hearty Box can help you host an outdoor BBQ with family or a 30-plus person baby shower, all while being customized to fit your budget and needs. But when parties are being discouraged during a national pandemic, what can you do? "Adapt," says Brit. "Surprisingly, we have flourished during the pandemic! Between parents homeschooling and long lines at stores, we've really filled a need for our customers. But, we also had to get creative. We did a 200+ order for Yeti corporate and were able to deliver a little bit of happiness to their employees with a customized box. We have also participated in some virtual banquet boxes for at-home fundraisers. These unique orders are crucial in our research and development phase. We've actually added some of the custom orders as new customer offerings to the site. As a small business, we're not afraid to try something new!"
Another new offering is a virtual workshop for JLA members on October 29. Brit and Elizabeth will give you all the tips and tricks for making your own Instagram-worthy balloon garland. Each attendee will practice how to make a balloon garland and can either purchase a kit from Party Hearty Box or buy their own supplies for the tutorial. Not only will you have a great garland for Halloween celebrations, you will also be an expert for your next party.
So the next time you don't think you can host, remember Party Hearty Box has your back.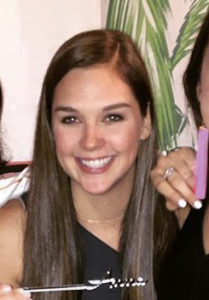 About the writer: Julie Hagen is going on her third year as a member of the Junior League of Austin. Julie does social media for a state agency and is looking forward to applying those skills as a League Lines writer. She was born and raised in Austin and is a third generation JLA member.