Quarantine Baking: Try Pear Bread This Fall
It's fall, y'all! We might still be waiting on cooler temperatures, changing leaves and chunky knit sweaters here in Texas but technically fall is here. So why not get inspired and take your quarantine baking up a notch? Banana bread might be having a moment, but pear bread should be your next baking challenge. Often overlooked for its fall cousin the pumpkin, pears are a great fall fruit you should include in your baking routine. 
Pears are a great option in breads, pies and even chutneys. So I decided to look for some baking inspiration from The Junior League of Austin (JLA). JLA has published cookbooks for decades with my personal favorite edition being Necessities and Temptations from the late 1980s. Luckily, my mom still uses her original copy that she received as a member of JLA in 1988 and offered to loan it to me. I went straight to the Biscuits, Breads, Muffins and Rolls section and found exactly what I was looking for—pear bread!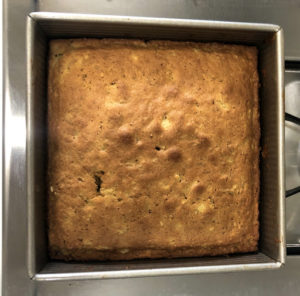 As tempted as I was by the pumpkin bread recipe on the next page, pear bread looked easy and delicious. This recipe uses ingredients most people will already have on hand—except for maybe the bran cereal. FYI: bran is a great source of fiber and is heart healthy!
Pear Bread
 ½ cup butter 
1 cup sugar 
2 eggs 
1 teaspoon vanilla extract 
1 ½ cup flour 
1 teaspoon baking powder
½ teaspoon baking soda 
½ teaspoon cinnamon 
¼ teaspoon salt 
1 tablespoon grated orange rind
⅓ cup orange juice 
1 cup bran cereal 
2 cups chopped unpeeled pears  
½ cup chopped pecans (optional)
Preheat oven to 350 degrees. 

Cream butter, sugar, eggs and vanilla until light and fluffy.

Stir in flour, baking powder, baking soda, cinnamon, salt, orange rind and orange juice. 

Fold in bran cereal and pears and pecans if using. 

Pour batter into pan and cook. For a 8X8-inch pan, cook for 40 minutes. For a loaf pan, cook for 50–60 minutes. (This recipe yields two loaves.)
Yum! This recipe definitely had a nice cinnamon and orange flavor. I recommend coarsely chopping the pear so you can have chunks in every bite. The best surprise of this recipe was the bran cereal. It melted into the bread during baking and added to the overall flavor.
Add butter on top for breakfast or a dollop of whipped cream to make it a dessert.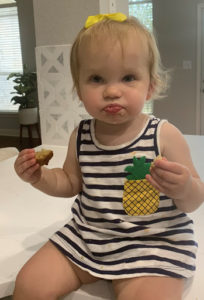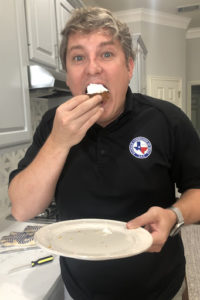 Kid tested and husband approved!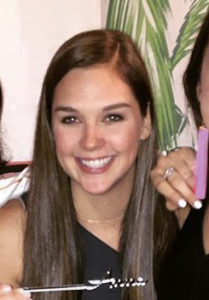 About the writer: Julie Hagen is going on her third year as a member of the Junior League of Austin. Julie does social media for a state agency and is looking forward to applying those skills as a League Lines writer. She was born and raised in Austin and is a third generation JLA member.